Positioning
Positioning
When you pull away from the curb you should try and maintain a strong position (about one metre away from the curb or obstructions on the left hand side).
Warning - Poor positioning - either too close to the left or right hand side unnecessarily could lead to hitting something on either side and could fail your test.
Moving off behind a parked car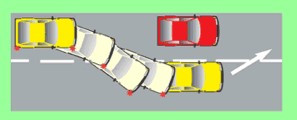 You might be tested on your ability to move out into your carriageway without going onto the wrong side of the street. If you are parked on the left behind a vehicle, check that you can see all of the tyres of the vehicle in front and around a metre of road tarmac. This means the gap between the cars is sufficient for you to move off in one go. You will need good clutch control anyway. Potentially you could hit the car in front by moving off too fast. Using clutch control keep your car slow and steer briskly to the right.

You need to make sure that you're not too close to the curb, but also not too far away. Your positioning is important, not only for safety, but also to allow the free flow of traffic. A badly positioned vehicle can hold up traffic in either direction. The Official DVSA Guide to Driving - The Essential Skills
WHAT IS THE IDEAL DRIVING POSITION WHEN YOU HAVE PULLED AWAY?
Complete and Continue